Un-Themed Memes
1. Do you sleep with your closet doors open or closed? Closed. Closet doors left open have always unnerved me.
2. Do you take the shampoos and conditioner bottles from hotel? Sometimes. 3. Have you ever 'done it' in a hotel room? > : ) 4. Have you ever stolen a street sign before? Nope. 5. Do you like to use post-it notes? Yes! 6. Do you cut out coupons but then never use them? Yes. 7. Would you rather be attacked by a big bear or a swarm of a bees? Swarm of bees. All it takes is a Dispel Air or a lake. 9. Do you always smile for pictures? The ones I know about. 10. What is your biggest pet peeve? Closed-minded people. 11. Do you sleep with your sheets tucked in or out? Tucked in. 12. Do you ever count your steps when you walk? Not anymore. 13. Have you ever peed in the woods? All of the time. 14. Do you ever dance even if there's no music playing? Yes. 15. Do you chew your pens and pencils? Yes. 16. How many people have you slept with this week? =/ 17. Do you like popcorn from those big tins? Yes. 18. What is your "Song of the week"? 19. Is it okay for guys to wear pink? Yes. 20. Do you still watch cartoons? Nightly. 21. What's your favorite scary movie? Jaws. 22. Where would you bury hidden treasure if you had some? The bank. 23. What do you drink with dinner? Water or milk or chocolate milk. 24. What do you dip a chicken nugget in? Honey or ketchup 25. What is your favorite food/cuisine? Italian, although my love for pasta has faded. For the moment, I will say my husband's beef stroganoff ;) 26. What movie could you watch over and over and still love? Howl's Moving Castle
27. Last person you kissed/kissed you? Glenn 28. Were you ever a boy/girl scout? Yes. 29. Would you ever strip or pose nude in a magazine? 30. When was the last time you wrote a letter to someone on paper? Too long ago. As soon as the drama slows down enough the book will arrive Kevin! 31. Can you change the oil on a car? I might be able to muddle it out. Why? Are the oil changers of the world going on strike? 32. Ever gotten a speeding ticket? Not yet. 33. Ran out of gas? Coasted into the gas station a couple of times. 34. Favorite kind of sandwich? Avocado and tomato 35. Best thing to eat for breakfast? Glenn's porkchop chili, or french toast, or my strawberry crepes or cheesy eggs. 36. What is your usual bedtime? I'm an old lady, it's bee around 9pm, but I've been staying up later. Maybe because a time change is upon us. 37. Are you lazy? Yes. More so since I became part of a couple. 38. When you were a kid, what did you dress up as for halloween? A cuckoo clock, the sea, a sick child in bed, the statue of liberty, a fairie 40. How many languages can you speak? One and I can kinda read another 41. Do you have any magazine subscriptions? No :( 42.Which are better legos or lincoln logs? Legos 43. Are you stubborn? Yes 44. Who is better...Leno or Letterman? Letterman! How is that even a question! 45 Ever watch soap operas? Once, I was confused. 46. Afraid of heights? I used to be. 47. Sing in the car? Yes, although I noticed that I stopped doing it for about a year. 48. Dance in the shower? Sometimes. 49. Dance in the car? Sometimes. 50. Ever used a gun? No. 51. Last time you got a portrait taken by a photographer? *blank stare* I knew there was something I forgot to do. 52. Do you think musicals are cheesy? I love cheesy musicals! They're the bestest! 53. Is christmas stressful? Only if you are not prepared, buying gifts at the last minute/day after Thanksgiving or running out of food to eat while stressed. 54. Ever eat a pieroge? Yes. 55. Favorite type of fruit pie? Not sure. 56. Occupations you wanted to be when you were a kid? A teacher or a vet. Until I realized that I might have to put someone's pet to sleep, then I cried and settled on becoming a teacher. Everyone told me that I should be a professional student, that teacher's would pay me to attend their classes. 57. Do you believe in ghosts? Yes. 58. Ever have a Deja-vu feeling Yes. 59. Take a vitamin daily? Yes. 60. Wear slippers? Yes. 61. Wear a bath robe? No. 62. What do you wear to bed? =) 63. First concert? Creed 64. Wal-Mart, Target or K-Mart? Wal-Mart. K-mart was never good and the Target here isn't the best. 65. Nike or Adidas? New Balance or Herman 66. Cheetos or Fritos? Cheetos 67. Peanuts or Sunflower seeds? Peanut butter! 68. Ever hear of, "gorp"? Do you mean Gurps? 69. Ever take dance lessons? Yes, tap and ballet when I was six. We did a dance to Madonna's 'Material Girl'. 70. Is there a profession you picture your future wife doing? 71. Can you curl your tongue? Yes. 72. Ever won a spelling bee? No. 73. Have you ever cried because you were so happy? Yes. 74. Own any record albums? Yes! I want more! 75. Own a record player? Yes! 76. Regularly burn incense? No. 77. Ever been in love? Yes! 78. Who would you like to see in concert? Madonna, The Pet Shop Boys, The Wreckers, Tori Amos

79. What was your last concert you saw? Er...probably Creed. I need to get out. 80.Hot tea or cold tea? Currently drinking Earl Grey loaded with honey. Gotta love my bee vomit. 81.Tea or coffee? Love tea, although the smell of coffee is wonderful. Sometimes I bury my nose in the different coffees in the aisle at Wal-mart. 82.Favorite kind of cookie? Neman Marcus 83.Can you swim well? No. 84.Can you hold your breath w/o manually holding your nose? No. 85. Are you patient? I've been told by a lot of people that I am extremely patient, even when I was a kid. I've never felt that I was patient. More like I have a volcano inside of me and I let everything build up, only to explode later. Glenn doesn't think I'm patient. ;) 86. DJ or band, at a wedding? I have very mixed feelings about this. DJ's are okay if you control what's played, but not everyone likes or will dance to your music. If your music is even danceable. And then some bands try to hard. It really depends. Hurry up with that band Stephie! 87. Ever have that Deja-vu feeling? Again, yes.
88. Ever have plastic surgery? Not yet. 89. Which are better black or green olives? Black. 90.Can you knit or crochet? Yes! And I can draw and bead too! 91. Best room for a fireplace? Living room, dining room, kitchen, bedroom. Could be fun in the bathroom, but I wouldn't trust one in the closet. Sims burn their houses down a lot. 92. Do you want to get married? Not again. 93. If married, how long have you been married? Two years, two months, and sixteen days 94. Who was your HS crush? Can't remember that far back. 95. Do you cry and throw a fit until you get your own way? No. 96. Do you have kids? No. 97. Do you want kids? Yes. According to some friends I'm going to have enough for a circus/baseball team. Although I doubt that will happen unless we become millionaires. 98. Whats your favorite color? Don't have one. I'm serious. 99. Do you miss anyone right now? Always. 100. Who do you wanna see right now? Glenn. Sophie.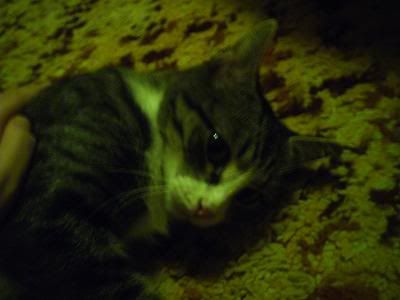 1. Cigarettes: disgusting 2. Sex: female 3. Relationships: yummy or full of drama 4. Your Last Ex: let's stay out of the past 5. Power rangers: nah 7. Crack: People keep telling me that crack is bad. I couldn't agree more. 8. Food: I love food. Food makes me happy. I'm not a glutton...no..... 9. The President: When's the next election? 10. War: I love Patton. 11. Cars: VROOOOM! 12. Gas Prices: Political. 13. Halloween: What I live for. The one time of year when people are actually open-minded about the world. 14. Bon Jovi: Jon 15. Religion: Best without politics 16. MySpace: I forget to use it. 17. Worst fear: I'm not telling you. 18. Marriage: Wonderful. Should be announced. 19. Paris Hilton: eh. 20. Brunettes: Yes I am 21. Redheads: I wish I were one. 22: Politics: Enrage me and then I feel helpless 23: Pass the time: Clean, play Sims, do laundry, play with Glenn, wash dishes, watch Buffy, straighten up the house, cuddle, eat, consider eating again, play with Sophie
24. One night stands: Actually, I have two nightstands. 25: Cell Phone: Still not sure if they cause cancer, but how do I get the pictures off? 26: Pet Peeves: Babysitting adults, Not being paid to babysit, People who do not signal when driving, Closed-minded people 27: Pixie Stix: *craving to put them in a sammich* 28: Vanilla Ice cream: With hot fudge? 29: Porta Potties: Outhouses are better and cleaner. 30: High school: Still have nightmares. 31. pajamas: with or without feet? I really wanna get the Yummy Sushi pj's. 32. Wood: water 33. Wet Socks: better than putting clean socks on, only to step in cat puke 34. Pictures: black and white portraits of people I know are the best 35. Your first love: Who do you think?